Lavender Eye Pillow
Reassuring and sleep inducing
Rose
Lavender
Jade
Emerald
British Jade
Silver Fish
Bronze
Instantly quietens the mind.
Let your tensions subside with our silk Lavender Eye Pillow filled and lightly weighted with organic seeds and real lavender. The ergonomic design rests on the acupressure points for clarity and calm, making it instantly soothing.
Using the Lavender Eye Pillow ensures a moment of tranquility and calm in the middle of your day or at bedtime.
Naturally cooling, it blocks out light to induce sleep and treats headaches, migraines, sinusitis, stress and insomnia.
Made in Britain.
Price:

£40.00
Check cost in your currency
Gift wrap is £4.00 per item, please click box below to include. Then add your personal message at the checkout.
Begin by gently rolling the Eye Pillow between your hands to release the relaxing fragrance.
Our classic style is made from 100% Silk dupion fabric.
Brocade styles are 100% silk dupion on the underside with a silk fibre mix brocade design on the upper.
Dimensions: 21cm x 9.5cm
Care: Clean the surface of your Eye Pillow with a damp cloth or dry clean only. Do not immerse in water.
Each Lavender Eye Pillow comes with an organza storage bag to make sure your Eye Pillow is clean and safe whether you are home or away.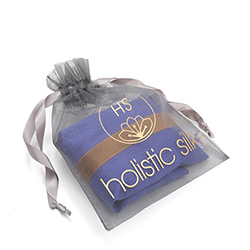 Care information See how it's packaged Delivery information
Love it? Then please share it.