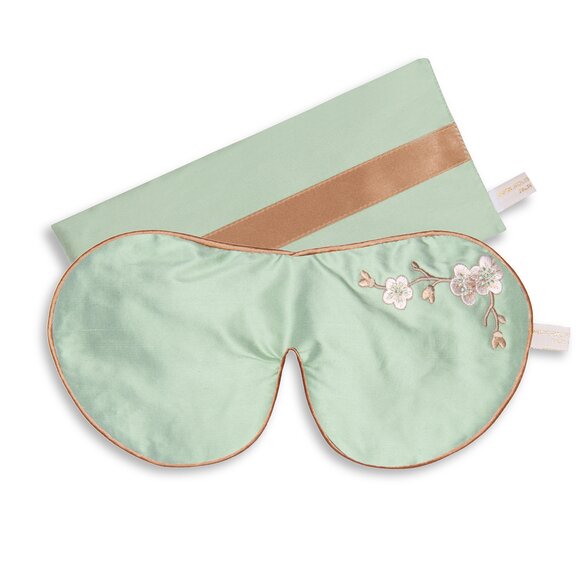 Ultimate Sleep Set
Let your tensions subside whilst this Lavender Eye Pillow induces calm and reduces mind chatter before the Lavender Eye Mask soothes your senses through until morning.
Description

Let your tensions subside and quieten your mind with our silk Lavender Eye Pillow and Lavender Eye Mask set. Both contrain dried Lavender which is proven to lower the heart rate, blood pressure and instantly promote relaxation.

Filled and lightly weighted with organic seeds and real Lavender the Eye Pillow rests on your acupressure points for clarity and calm, making it instantly soothing whilst the ergonomically designed Eye Mask gently rests on the cheekbones and forehead for maximum comfort as well as completely blocking out light.

Emerald is only available in a plain, One Strap design. Rose Dragonfly & Jade Dragonfly are also available in a one strap design.

Product Details

Step 1: Spend 10-15 minutes relaxing whilst the soothing linseed and dried lavender flowers inside our Lavender Eye Pillow settle into the contours of your eyes, gently pressing on the acupressure points known to bring about calm and serenity.

Step 2: Once suitably relaxed and ready to slip into the deepest of sleeps slip on one of our Lavender Eye Masks (use alone or over the Eye Pillow) to block out any light disturbance and let the delicate lavender aroma soothe your senses and help you drift away.

Useful Information

Clean the surface of your Eye Pillow and Eye Mask with a damp cloth or dry clean only. Do not immerse in water.

Each Ultimate Sleep Set comes with an organza storage bag to make sure your Eye Pillow and Eye Mask are clean and safe whether you are home or away.

Made in Britain using responsibly sourced textiles.
Bronze Dragonfly or Blossom
Emerald One Strap
Rose Dragonfly or Blossom
Lavender Dragonfly or Blossom
Jade Dragonfly or Blossom