Lavender Eye Mask
Bronze Blossom
Bronze Dragonfly
Cream Blossom
Cream Dragonfly
Silver Blossom
Silver Dragonfly
Black Blossom
Black Dragonfly
Lavender Blossom
Lavender Dragonfly
Jade Blossom
Jade Dragonfly
Rose Blossom
Rose Dragonfly
Lilac Blossom
Lilac Dragonfly
Pink Dragonfly
Pink Blossom
Tibetan Orange Dragonfly
Tibetan Orange Blossom
Tomato Dragonfly
Tomato Blossom
Blue Dragonfly
Blue Blossom
Jade One Strap
Rose One Strap
Bronze Check One Strap
Bronze Brocade One Strap
Brocade One Strap
Black One Strap
Navy One Strap
Black One Strap (unscented)
Customers who bought this item also bought

This ultimate Eye Mask is lovingly made in Britain using the finest silk it has super soft 100% cotton velvet lining and is filled with Lavender to soothe you and fragrance the air. The soft velvet ties ensure maximum comfort, once tied to fit you, just slip on and off.
To create this exquisite piece we use expert production units who make some of the best know international designer clothing collections.
Price:

£46.00
Check cost in your currency
Gift wrap is £4.00, please add to your bag below and then add to your message in the checkout.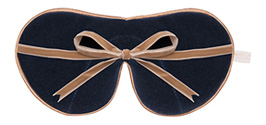 This is what the underside of our Eye Mask looks like, 100% Cotton Velvet for the ultimate night's rest. The Eye Mask fully blocks out light as sleeping in total darkness is thought to enhance the quality of your sleep.
The classic two strap Lavender Eye masks really are the most comfortable, but we make a one strap too for those who prefer the traditional method.

Sweet Dreams!
Dimensions: 24cm x 12cm
Care Information:
This Eye Mask should last you at least 2 years if looked after, simply squeeze to rejeuvenate the aroma!
Clean with a damp cloth or dry clean only. After time the scent of lavender will fade, to prolong and rejuvenate the aroma simply find the pure dried lavender in your mask (it usually settles around the nose area) and rub gently between your fingers 3-4 times, scent will be emitted straight away. Try to keep silk and lavender out of direct sunlight as both will fade.
Care information See how it's packaged Delivery information