Lavender Eye Mask: For deep resorative beauty sleep.
Jade Blossom
Jade Dragonfly
Rose Blossom
Rose Dragonfly
Bronze Blossom
Bronze Dragonfly
Lavender Blossom
Lavender Dragonfly
Cream Blossom
Cream Dragonfly
Silver Blossom
Silver Dragonfly
Aqua Blossom
Aqua Dragonfly
Sage Blossom
Sage Dragonfly
Blue Blossom
Blue Dragonfly
Pink Blossom
Pink Dragonfly
Tibetan Orange Blossom
Tibetan Orange Dragonfly
Scarlet Blossom
Scarlet Dragonfly
Black Blossom
Black Dragonfly
Black One Strap
Black One Strap (unscented)
Amethyst One Strap
Jade One Strap
Rose One Strap
Rose (unscented)
Jade (unscented)

Stress relieving, and perfect for insomniacs. Use for a good night's sleep.
Our much loved award winning Silk Dupion Eye Mask is a timeless classic.
Specifically created to help you to sleep more deeply and to boost energy levels for the morning. Our supersize design rests on your cheekbones and forehead rather than sitting on the eyes, this means it is especially comfortable and unrestrictive, whilst being totally effective at blocking out the light.
Lined in super soft and comforting 100% Cotton Velvet and filled with pure dried Lavender to subtly fragrance the air.
The soft velvet ties ensure maximum comfort and fit, once tied to suit you, just slip on and off.
Each Lavender Eye Mask comes with a Linen Bag to make sure your Eye Mask is clean and safe whether you are home or away.
Made in Britain.
Price:

£52.00
Check cost in your currency
Gift wrap is £4.00, please add to your bag below and then add to your message in the checkout.

Our two strap Lavender Eye masks really are the most comfortable and effective, you won't feel the straps, and the mask won't come off or ruin your hair!
We make a one strap version for those who prefer the traditional method.
The Beauty of Dupion Silk:
We use Dupion silk, which is a weighted crisp silk suited to tailoring. Dupion has an incredible sheen and vibrancy due to it's natural occurring slubs. Slubs are thicker threads that are woven into the weft to create a regal shimmer. Slubs are not a fabric fault!

Sweet Dreams!
Dimensions: 24cm x 12cm
Did you know ? To create this exquisite piece we use expert production units who make some of the best know international designer clothing collections.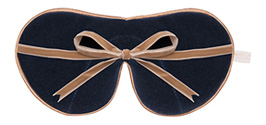 Care information See how it's packaged Delivery information