Lavender Eye Mask
Jade Blossom
Jade Dragonfly
Aqua Dragonfly
Aqua Blossom
Lavender Blossom
Lavender Dragonfly
Blue Dragonfly
Blue Blossom
Rose Blossom
Rose Dragonfly
Lilac Blossom
Lilac Dragonfly
Silver Blossom
Silver Dragonfly
Bronze Blossom
Bronze Dragonfly
Cream Blossom
Cream Dragonfly
Pink Blossom
Pink Dragonfly
Scarlet Blossom
Scarlet Dragonfly
Tibetan Orange Dragonfly
Tibetan Orange Blossom
Black Blossom
Black Dragonfly
Monogram Jade
Jade One Strap
Rose One Strap
Bronze Check One Strap
Brocade One Strap
Black One Strap
Black One Strap (unscented)
Customers who bought this item also bought

Stress relieving and perfect for insomniacs!
This ultimate award winning therapeutic Eye Mask is lovingly made in Britain using the finest silk, and lined in super soft and comforting 100% Cotton Velvet. Filled with pure dried Lavender it will soothe you to better sleep and fragrance the air. The soft velvet ties ensure maximum comfort and fit, once tied to suit you, just slip on and off.

New! Monogram Eye Masks in Jade £58...expect delivery in approx 2 weeks.Just select from the drop down and put your two required initials in our 'special delivery instructions' box at the checkout.
Price:

£46.00
Check cost in your currency
Gift wrap is £4.00, please add to your bag below and then add to your message in the checkout.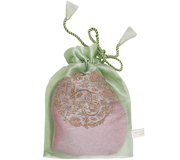 Each Lavender Eye Mask now comes with a a luxury embroidered organza bag to store your beautiful sleep and beauty aid.
Our super sized Eye Mask is designed to rest on your cheekbones and forehead rather than to sit on the eyes, which makes it especially comfortable and un restrictive whilst being totally effective at blocking out the light.
The Beauty of Dupion Silk:
We use Dupion silk, which is a weighted crisp silk suited to tailoring. Dupion has an incredible sheen and vibrancy due to it natural occuring slubs. Slubs are thicker threads that are woven into the weft to create a regal shimmer. Slubs are not a fabric fault!

The classic two strap Lavender Eye masks really are the most comfortable, but we make a one strap too for those who prefer the traditional method.

Sweet Dreams!
Dimensions: 24cm x 12cm
Did you know ? To create this exquisite piece we use expert production units who make some of the best know international designer clothing collections.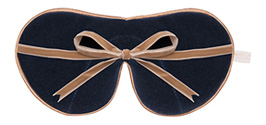 Care information See how it's packaged Delivery information