Hot Water Bottle
Reassuring, soothing and comforting
Turquoise Velvet
Lavender Velvet
Cream Velvet
Pink Velvet
This really is the most stylish and decadent of hot water bottles, covered in super smooth and cosy silk velvet you will never want to go to bed without it....

Our Silk velvet and brocade Hot Water Bottles not only keep you warm, when filled with hot water they are also the ultimate stress buster, relaxation and comfort tool.
Comes with a removable pure lavender sachet to emit a subtle scent when the bottle is filled. Perfect for common ailments such as stomach, back and neck ache and of course keeping you warm through the night.
Lined in ecological unbleached cotton velvet for extra luxurious padded comfort.
Includes a superior quality 2 litre European standard bottle made by Fashy.
Price:

£90.00
Check cost in your currency
Gift wrap is £4.00 per item, please click box below to include. Then add your personal message at the checkout.
Dimensions: 38cm x 26.5cm
Care: Machine washable at 30 degrees on a silk or wool wash with mild detergent.
Please remove the lavender sachet before machine washing or dry cleaning.
Each Silk Hot Water Bottle comes with a beautiful organza storage bag perfect for travel and gifting.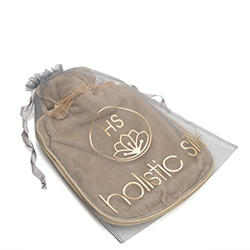 Care information See how it's packaged Delivery information
Love it? Then please share it.