Yoga Rug Mat:
A sacred space for your practice
Orange
Aqua
Pink
Silver
Gold
Jade
Tan
Jade Peacock
Silver Peacock
Gold Peacock
Supporting and reassuring. Perfect to decompress on, stretch and breathe....
Our super luxurious yet lightweight Yoga Rug Mat has a non-slip faux leather base and cosy fleece top to give comfort and reassurance while stretching and holding your pose. Recommended for hatha, restorative and yin yoga, it is gently scented with relaxing real lavender that releases it's fragrance as you practice.
We also like to call it the decompression mat. Perfect for letting go after after a long day, just roll out, lie down and breathe....
Comes with a comfy carrying harness handle.
Standard yoga mat size of 180cm x 63cm
Average weight only 1.5kg, so take it everywhere!
Yoga Rug Mat £175
Peacock Feather Yoga Rug Mat £195
Price:

£175.00
Check cost in your currency
Gift wrap is £4.00 per item, please click box below to include. Then add your personal message at the checkout.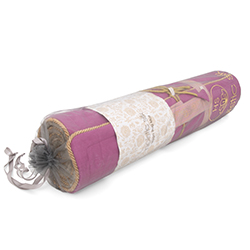 Each Yoga Rug Mat comes with a beautiful organza storage bag to make sure your Yoga Rug Mat is clean and safe whether you are home or away.
Recommended for restorative and yin yoga practice.
Please note our harness designs are limited edition, so yours may differ slightly from those illustrated.
Amazingly you can wash your Yoga Rug Mat at 30 degrees in a standard washing machine. The lavender will gradually start to fade when you do this so we suggest sprinkling lavender essential oil where you like on the fleece to maintain the pleasant aroma.
Care information See how it's packaged Delivery information
Love it? Then please share it.