Massaging Slippers: For lighter legs
British Jade Faux Fur
Turquoise
Peacock
Orange
Black
Lavender
Rose
Jade
Pink
Silver
Scarlet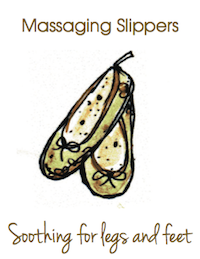 Not 'just a pair of pretty slippers!'
Reflexologist Charlotte Crowther and founder of 'learn to be well' recommends our Massaging Slippers as a route to wellbeing...
Perfect after a long day on your feet.
When feet are throbbing and legs aching simply slip on our ultra chic Silk Brocade Slippers. Let the tiny nodules inside massage your feet and soothe your whole body. The magnets embedded into the insoles aid pain relief and circulation, making them perfect for in-flight relaxation too.
Size: Small: UK 3-4 EU 36-37
Medium: UK 5-6 EU 38-39
Large: UK 7-8 EU 40-41
Price:

£75.00
Check cost in your currency
Gift wrap is £4.00, please add to your bag below and then add to your message in the checkout.
Super lightweight and non slip, our Massaging Slippers are like a second skin. Also great fo relaxing, travel, yoga and even in the office.
Go to Men's Massaging Slippers

NB. Before wearing magnets, consult a doctor if you are pregnant or have a pacemaker or a defibrillator.
You can easily remove the magnetic insoles from our slippers.
Care Information:
Clean slippers with a damp cloth, insoles can be washed with warm soapy water. For indoor use only.
Care information See how it's packaged Delivery information