Massaging Slippers:
For lighter legs
Jade
Silver
Rose
Pink
Lavender
Turquoise
Peacock
Black
Scarlet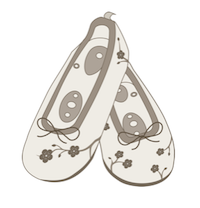 Not just a pretty pair of slippers!
Our silk brocade Massaging Slippers come with magnetic insoles; the nodules inside massage your feet, and sooth your entire body, whilst the magnets aid pain relief and improve circulation.
* Perfect for aching legs after a long day on your feet.
* Designed as an inflight travel slipper to prevent swelling.
* Super lightweight and non-slip.
* Great for yoga and even in the office.
Reflexology recognises that there are reflex points in the feet related to our digestive system. By massaging these points gently with the multiple magnetic and perforated massage nodules in our slipper insoles your nervous system may be stimulated to enhance your body's metabolism.
Sizes:
Small: UK 3-4 EU 36-37
Medium: UK 5-6 EU 38-39
Large: UK 7-8 EU 40-41
We recommend that you follow our slipper size guide above, however if your feet are particularly narrow we recommend you drop a shoe size and if very wide add a shoe size. You can always exchange them if necessary!
Price:

£75.00
Check cost in your currency
Gift wrap is £4.00 per item, please click box below to include. Then add your personal message at the checkout.
We also have Men's Massaging Slippers
Care: clean the surface of your Massaging Slippers with a damp cloth. The removable insoles can be washed with warm soapy water. The insoles can be reinserted into the slipper once dry. Recommended for indoor use only.
NB: Before wearing magnets, consult a doctor if you are pregnant or have a pacemaker or a defibrillator. You can easily remove the magnetic insoles from our slippers.
Care information See how it's packaged Delivery information