Anti Ageing Silk Sleeping Cocoon
For soothing sleep and hydrating skin
White
Designed to retain skin's natural hydration and maximise the effects of applied moisturisers whilst being deeply relaxing and luxurious.

Envelop yourself in our ultimate indulgence-a 100% satin silk, opulent weight, sleeping cocoon.
What is it?
This portable peace solution enables you to cocoon yourself in nourishing silk wherever you may be, giving a wonderful feeling of calm and security to soothe you into a deep relaxing sleep. Unlike cotton, which is very absorbent, satin silk glides across your skin and nourishes due to its non-absorbent nature. It keeps natural moisture and creams locked in, whilst deterring facial creasing and damage to skin and hair as you sleep.

There is nothing like it!
Just fold the specially designed pocket over your pillow and slip in between the beautifully French seamed satin sheets of the cocoon to be encased in comforting,
hydrating and decadent silk.
Helps to retain your skin's natural hydration.
Maximises the effects of applied moisturisers.
Deeply relaxing and luxurious.
Hypoallergenic and hygienic.
Price:

£195.00
Check cost in your currency
Gift wrap is £4.00 per item, please click box below to include. Then add your personal message at the checkout.
Dimensions: 90cm x 220cm
Care: Machine washable on a 30° silk wash. Wash with similar colours.
Each Anti Ageing Silk Sleeping Cocoon comes with a beautiful organza storage bag to make sure your Sleeping Cocoon is clean and safe whether you are home or away.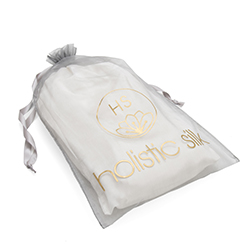 Care information See how it's packaged Delivery information
Love it? Then please share it.