Anti Ageing Silk Sleeping Cocoon
For soothing sleep and hydrated skin
White
Deeply relaxing and luxurious whilst helping to retain skin's natural hydration.
Envelope yourself in our ultimate indulgence-a 100% satin silk, opulent weight, sleeping cocoon. Perfect for travel to create your own haven, or for a home spa feeling.
How to use:
Simply slip your pillow into the pocket on the lower sheet; giving you all of the benefits of our Anti-Ageing Silk Pillow Case. Pull back the generous flap on the top layer and slide yourself in between the beautifully French seamed satin sheets of the cocoon to be encased in comforting, hydrating and decadent silk. Finally bring the flap either up to your décolletage as you would with a traditional sheet or its ample cut allows you to use it to cover your shoulders and face if you wish. As it is silk the cocoon naturally cools you making it perfect for hot nights and can be used under a duvet or blanket on cooler nights.
Helps to retain your skin's natural hydration.
Maximises the effects of applied moisturisers.
Deeply relaxing and luxurious.
Hypoallergenic and hygienic.
Price:

£195.00
Check cost in your currency
Gift wrap is £4.00 per item, please click box below to include. Then add your personal message at the checkout.
Dimensions: 90cm x 220cm
Care: Machine washable on a 30° silk wash. Wash with similar colours.
Each Anti Ageing Silk Sleeping Cocoon comes with a beautiful organza storage bag to make sure your Sleeping Cocoon is clean and safe whether you are home or away.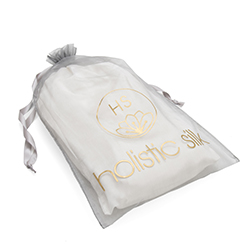 Care information See how it's packaged Delivery information
Love it? Then please share it.