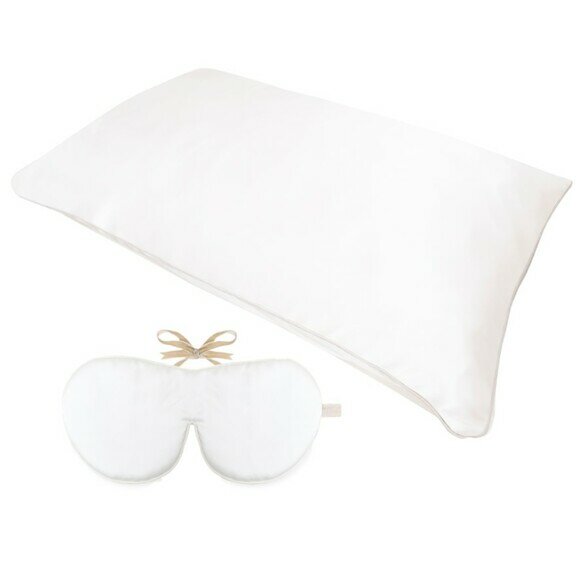 Rejuvenating Sleep Set
Works while you sleep to protect the delicate eye area whilst combating facial creasing and morning frizz. Recommended by Stylists, Dermatologists and Plastic Surgeons
Description

The naturaly occuring Sericin in silk mirrors the protein structure of hair protecting it as it glides across the surface of the pillowcase to reduce morning frizz. And unlike cotton, Satin Silk doesn't absorb valuable night creams or natural moisture meaning more of the cream is absorbed whilst your skin and hair retain their natural moisture so that on waking skin feels more hydrated and nourished and hair silky smooth.

Product Details

Made from and lined in 100% Satin Silk, our super smooth, hypoallergenic mask is so light you won't even notice it is on. Specifically created to help you to sleep more deeply and to boost energy levels for the morning, our super size design is comfortable and non-restrictive, resting on your cheekbones and forehead with a ribbon tie fastening for the perfect fit, comfort and for being completely effective at blocking out light.

At a generous weight of 19 momme Silk our pillowcases are also finished to the highest standard with French seams and satin piping throughout. Sized to fit a standard pillow of 74cm x 50cm each pillowcase comes with a lavender sachet to promote good rest. You won't find better....

This set is also available in an unscented version.

Please note that our white Anti Ageing Silk Eye Masks are white silk on the reverse side but still block out the light as effectively.

Useful Information

Pillowcase Dimensions: 50cm x 74cm

Eye Mask Dimensions: 24cm x 12cm

The Pillowcase is machine washable on a 30 degree silk wash. Wash with similar colours and remove the lavender sachet before washing.

Clean the surface of your Eye Mask with a damp cloth or dry clean only.

This Sleep Set comes with a beautiful organza storage bag to make sure your Anti Ageing Eye Mask and Pillowcase are clean and safe whether you are home or away.
White