Brocade Make-Up Bag
Glamorous and practical
Turquoise
Lavender
Scarlet
Tibetan Orange
Black
Glamorous and useful.
This generously sized silk brocade Make-Up Bag, which is filled with lavender, has a luxurious metallic waterproof lining for all of your beauty essentials.
Gently squeeze to release the fragrance of therapeutic lavender hidden inside.
Price:

£34.00
Check cost in your currency
Gift wrap is £4.00 per item, please click box below to include. Then add your personal message at the checkout.
Dimensions: 19cm x 16cm x 5cm
Care: Clean both the inside and outside of your Make-Up Bag with a damp cloth or dry clean only.
Each Make Up Bag comes with a beautiful organza storage bag.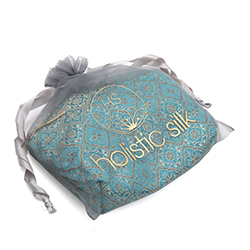 Care information See how it's packaged Delivery information
Love it? Then please share it.