Anti Ageing Silk Pillowcase
Prevents morning facial creases
White
Cream
Hampton Wedding Liberty Print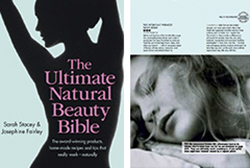 Works while you sleep.
As recommended for your skin by dermatologists, plastic surgeons and the 'Natural Beauty Bible' and for your hair by stylists.

Our beautifully made hypoallergenic 100% luxurious weight satin silk pillowcase is super smooth and friction free, deterring facial creasing and damage to skin cells as you sleep. Unlike cotton, satin silk won't absorb your valuable night creams or natural moisture but helps to retain it in your skin throughout the night keeping skin hydrated and nourished.
Each pillowcase comes with a lavender sachet to promote good rest.
Sized to fit a standard pillow of 70cm x 50cm.
Save £5 when you purchase two Anti Ageing Silk Pillow Cases. Simply enter 'sleep' at checkout to claim.
Cream and white Anti Ageing Silk Pillowcase: £55 each
Limited Edition Liberty print Anti Ageing Silk Pillowcase: £80 each
Where "Liberty" is mentioned this denotes use of original Liberty print fabrics within Holistic Silk designs.
Price:

£55.00
Check cost in your currency
Gift wrap is £4.00 per item, please click box below to include. Then add your personal message at the checkout.
Silk contains sericin which mirrors the protein structure of hair. This means hair is protected as it glides over silk ensuring it is frizz free in the morning.
At a generous weight of 19 momme silk our pillowcases are also finished to the highest standard with French seams and satin piping throughout. You wont find better....
Care: Machine washable on a 30 degrees silk wash. Wash with similar colours.
Please remove the lavender sachet before machine washing at 30% or dry cleaning.
Each Anti Ageing Silk Pillowcase comes with an organza storage bag to make sure your pillowcase is clean and safe whether you are home or away.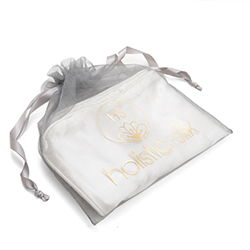 Care information See how it's packaged Delivery information
Love it? Then please share it.