Anti Ageing Eye Mask
For deep restorative beauty sleep. Prevents facial creasing and retains skin hydration
Hampton Wedding Liberty Print
Edna Liberty Print Blue
Edna Liberty Print Pink
White
Anti Ageing White (unscented)
Navy
Protects and soothes your skin whilst blocking out the light.
This is the most luxurious version of our Eye Mask. Made from and lined in 100% satin silk, our super smooth hypoallergenic mask is so light and sensitive it helps to protect delicate skin while you sleep, ensuring hydration and that beauty creams remain in your skin and not on your Eye Mask. Effectively blocks out the light.
Simply tie on and lie back to feel the benefit. The soft velvet ties ensure maximum comfort and fit: once tied to suit you, just slip on and off. You won't feel them, we promise.
Our white Anti Ageing Eye Mask is available unscented. All other designs come scented with real lavender, to subtly fragrance the air and soothe you to better sleep.
Where "Liberty" is mentioned this denotes use of original Liberty print fabrics within Holistic Silk designs.
Price:

£60.00
Check cost in your currency
Gift wrap is £4.00 per item, please click box below to include. Then add your personal message at the checkout.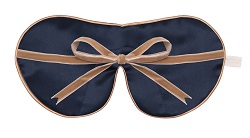 Image of the navy satin silk on the reverse side.
Please note that our white Anti Ageing Silk Eye Masks are white silk on the reverse side.

Specifically created to help you to sleep more deeply and to boost energy levels for the morning. Our super size design rests on your cheekbones and forehead rather than sitting on the eyes which means it is especially comfortable and nonrestrictive, whilst being totally effective at blocking out the light.
Sweet Dreams!
Dimensions: 24cm x 12cm
Care: Dry clean only.
Each Anti Ageing Eye Mask comes with a beautiful organza storage bag to make sure your Eye Mask is clean and safe whether you are home or away.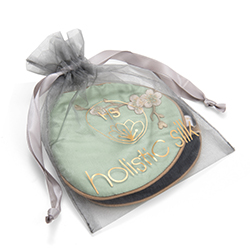 Care information See how it's packaged Delivery information
Love it? Then please share it.