Swiss Pine Pouch
Exceptionally fragrant, soothing and reassuring
Soothes tension and anxiety.
The curative effects of Swiss Pine are recognised throughout Central Europe where it is grown in the Alps and Carpathian Mountains.
A scientific study by the Joanneum Research institute in Austria revealed that exposure to Swiss pine lowers the heart rate, which in turn creates a more restful and restorative night inducing feelings of comfort.
Exceptionally fragrant, soothing and instantly relaxing, we advise that you keep your pouch near your pillow, in the car, at the office and when travelling.
Soothes tension and anxiety.
Quality of sleep can be markedly improved, even during the first sleep cycle.
Swiss pine is anti-bacterial and moth repellent.
Swiss pine can strengthen energy and the ability to recover and regenerate.
Price:

£16.00
Check cost in your currency
Gift wrap is £4.00 per item, please click box below to include. Then add your personal message at the checkout.
Dimensions: 17cm x 12cm x 7cm
Please note the Swiss Pine content does not come in a heart shape!
Care: Squeeze to rejuvenate.
Do not wash contents.
Each Swiss Pine Pouch comes with a beautiful organza storage bag to make sure your Swiss Pine Pouch is clean and safe whether you are home or away.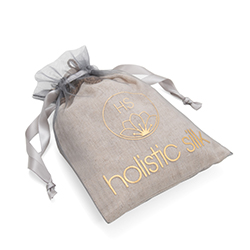 Care information See how it's packaged Delivery information
Love it? Then please share it.