One Strap Eye Mask
For deep restorative sleep
Rose One Strap
Sandy Ray Liberty Print One Strap
Linen Gold Stripe One Strap
Vintage Stamp One Strap
Navajo
Jade One Strap
Black Leaf One Strap
Emerald One Strap
Black One Strap
Black One Strap (unscented)
Our Classic Eye Mask designed with one wide, soft velvet, elasticated strap to ensure maximum comfort.
Stress relieving and perfect for insomniacs. Let sleep prevail with our award winning, timeless classic, Lavender Eye Mask made from luxurious silk.
Specifically created to help you to sleep more deeply and to boost energy levels for the morning. Our super size design rests on your cheekbones and forehead rather than sitting on the eyes which means it is especially comfortable and nonrestrictive, whilst being totally effective at blocking out the light.
Made in Britain.
Price:

£52.00
Check cost in your currency
Gift wrap is £4.00 per item, please click box below to include. Then add your personal message at the checkout.

Image of the reverse side.
Filled with real lavender to subtly fragrance the air and lined in super smooth cotton velvet. The one wide, soft velvet, elasticated strap allows you to just slip on and off to feel the benefit.
The Beauty of Dupion Silk:
We use Dupion silk, which is a weighted crisp silk suited to tailoring. Dupion has an incredible sheen and vibrancy due to its naturally occurring slubs. Slubs are thicker threads that are woven into the weft to create a regal shimmer. Slubs are not a fabric fault!
Sweet Dreams!
Dimensions: 24cm x 12cm
Care: Clean the surface of your Eye Mask with a damp cloth or dry clean only. Do not immerse in water.
Each One Strap Eye Mask comes with an Organza bag to make sure your Eye Mask is clean and safe whether you are home or away.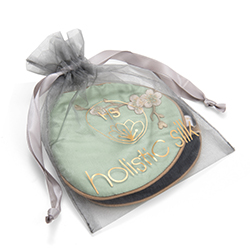 Care information See how it's packaged Delivery information
Love it? Then please share it.